Start Customizing Your Profile for Free!
Update to Professional Trial!
YOU'RE ALL SET!
Enjoy your limited-time access to the Compliance Network Professional Trial!
A confirmation welcome email has been sent to your email address from ComplianceNetwork@t.jjkellercompliancenetwork.com. Please check your spam/junk folder if you can't find it in your inbox.
YOU'RE ALL SET!
Thank you for your interest in
Environmental
Hazmat
related content.
WHOOPS!
You've reached your limit of free access, if you'd like more info, please contact us at 800-327-6868.
Copyright 2023 J. J. Keller & Associate, Inc. For re-use options please contact copyright@jjkeller.com or call 800-558-5011.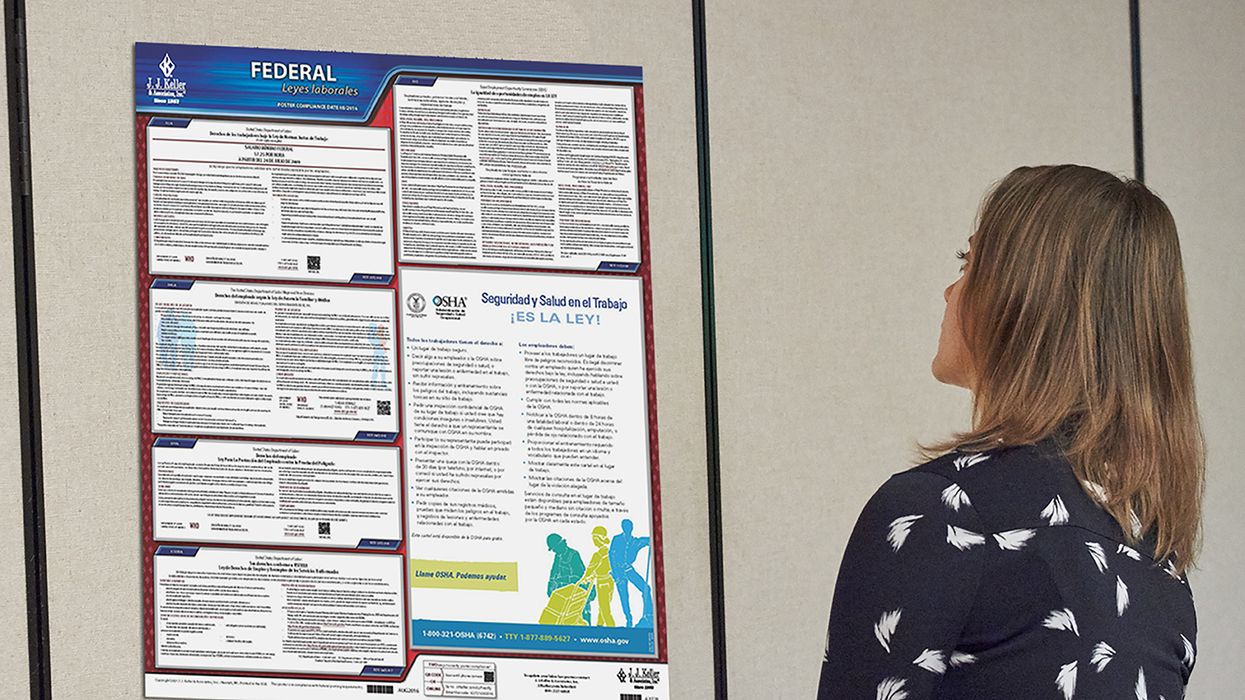 5 ways to prepare for January 2023 labor law posting updates
On January 1, labor law posting updates will be required in 23 states. In addition, covered employers should have a new federal "Know Your Rights" posting on the wall.
To get ready for the 2023 changes:
Check your federal postings. The Equal Employment Opportunity Commission (EEOC) released a new "Know Your Rights" poster in October. It's giving covered employers a "reasonable amount of time" to display the poster, which replaces the "Equal Employment Opportunity is the Law" poster. While there is no hard and fast deadline for displaying the new poster, a great goal is to have it updated by January, when state posting changes are also taking effect. (The EEOC posting requirement applies to businesses with 15 or more employees, so small businesses are not required to post it.)
Post conspicuously. Every business has some labor law posting obligations, relating to minimum wage, safety, and other laws, and the required posters must be placed in conspicuous locations where employees are likely to see them. This could be in a breakroom, by a time clock, or next to a common employee entrance. If you have several buildings or a large facility, make sure you have enough posters displayed. They may need to be placed in several areas so all employees have the opportunity to see them on a regular basis.
Be organized. Make sure you know where all your posters are located, so you can be ready to update them when needed. If you're preparing for January changes, get a poster count so you know how many new posters to order or print .
Be aware of state changes. If your state has a January minimum wage update or new paid leave law taking effect, there's a good chance a new poster is required. Other significant regulatory updates may also require a posting change. Check our list below to see if your state is impacted.
Be ready to post. Many employees have vacation during the last week of the year, and some companies shut down for the entire week. Who will have the responsibility of putting the updated posters on the wall when that break is over? Make sure this to-do is on someone's calendar, so outdated information isn't displayed in the New Year.
Posting updates on the way for January 2023
These states will have a posting update that takes effect on January 1:
Alaska: Summary of Alaska Wage and Hour Act
Arizona: Minimum Wage
California: Minimum Wage; Family, Medical, and Pregnancy Leave
Colorado: Colorado Overtime & Minimum Pay Standards (COMPS) Order, FAMLI Act
Illinois: Your Rights Under Illinois Employment Laws
Louisiana: Earned Income Credit (may be released later in 2023)
Maine: Minimum Wage
Maryland: Minimum Wage
Massachusetts: Paid Family and Medical Leave
Minnesota: Minimum wage
Missouri: Minimum Wage
Montana: Minimum Wage
Nebraska: Minimum Wage
New Mexico: Minimum Wage
New Jersey: Minimum Wage
New York: Minimum Wage (effective December 31, 2022)
Ohio: Minimum Wage
Oregon: Paid Leave
Rhode Island: Minimum Wage, Pay Equity, Discrimination is Illegal
South Dakota: Minimum Wage
Vermont: Minimum Wage
Virginia: Minimum Wage
Washington: Paid Family and Medical Leave, Minimum Wage
All changes are mandatory except for the minimum wage posting updates in Montana, South Dakota, Virginia, and Washington. Mandatory changes are required to be displayed. Employers are encouraged to post an updated poster even when an update is not mandatory, to avoid displaying outdated information.
Key to remember: Make sure you are ready for state and federal poster updates. Properly displaying updated posters can help employers avoid fines and employee litigation, and can reassure auditors that attention is being paid to the compliance details.
J. J. Keller is the trusted source for DOT / Transportation, OSHA / Workplace Safety, Human Resources, Construction Safety and Hazmat / Hazardous Materials regulation compliance products and services. J. J. Keller helps you increase safety awareness, reduce risk, follow best practices, improve safety training, and stay current with changing regulations.