Start Customizing Your Profile for Free!
Update to Professional Trial!
YOU'RE ALL SET!
Enjoy your limited-time access to the Compliance Network Professional Trial!
A confirmation welcome email has been sent to your email address from ComplianceNetwork@t.jjkellercompliancenetwork.com. Please check your spam/junk folder if you can't find it in your inbox.
YOU'RE ALL SET!
Thank you for your interest in
Environmental
Hazmat
related content.
WHOOPS!
You've reached your limit of free access, if you'd like more info, please contact us at 800-327-6868.
Copyright 2023 J. J. Keller & Associate, Inc. For re-use options please contact copyright@jjkeller.com or call 800-558-5011.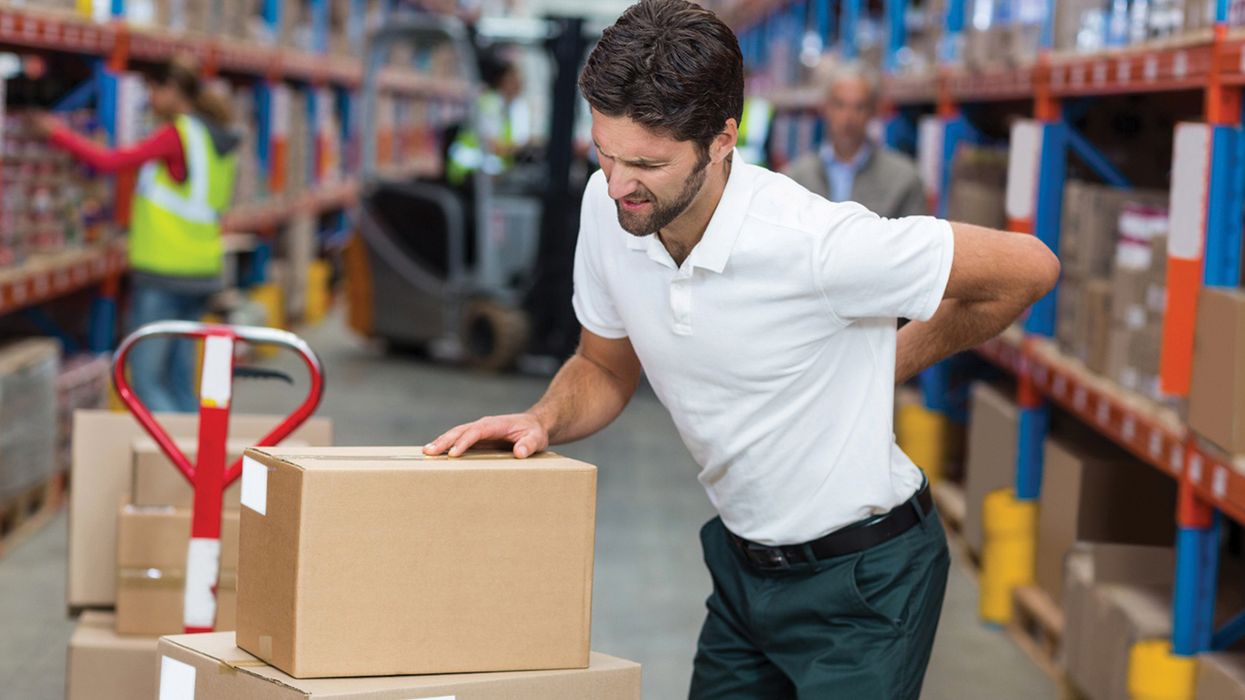 Recognizing and avoiding risk factors for back injuries
2023-01-18T06:00:00Z
Many factors contribute to back injuries, but by training employees to recognize and avoid the most common causes, employers can reduce these injuries. The main risk factors include working in awkward postures or positions, and working too hard or too long (overexertion).
Awkward movements
Working in an awkward position, or using unsafe motions, can quickly cause discomfort. That is the body's warning to stop! Examples of awkward movements include:
Reaching over the head or leaning forward to grab items. Think of reaching across a wide table or getting an item from the back of a truck.
Bending forward for long periods, particularly while kneeling. Think of doing gardening work.
Lifting or carrying items with unusual shapes or sizes that don't allow a proper grip, such as large bags or boxes. Think of handling 50-pound bags of dog food.
Twisting at the waist while lifting or carrying a heavy load. Think of shoveling dirt or snow and twisting at the waist to "throw" a load.
Employers should eliminate awkward activities, or minimize the time spent performing them.
Adjust the body's position to avoid twisting while lifting, carrying, or placing a load. Move the feet and body to face the load rather than twisting at the waist.
Reduce bending by providing a workstation between waist and shoulder height. Adjustable stations can maintain appropriate working height when stacking or unstacking loads.
Store heavy or awkward items near waist height rather than floor level to reduce bending as well as reducing the lifting distance.
Lift gradually with a smooth motion; avoid "jerking" motions.
If workers stretch their backs to relieve back tension or soreness, that's a sign of fatigue and a warning of potential future injuries. Evaluate workstation design and work assignments to alleviate back strain.
Overexertion
Lifting heavy or awkwardly-shaped items causes strain on the back, increasing both fatigue and the risk of injury. Exertion is a factor not only of weight and repetition, but ability to grip, duration of task, and body position. Preventative steps include:
When carrying a load, keep weight close to the body. If body posture changes when carrying a load, such as leaning backward to maintain balance, the load is too heavy. Use carts or dollies to transport heavy items rather than carrying them. Remember that pushing a cart causes less back strain than pulling.
Where possible, use lifting tables or other lifting aids. Consider these aids when repeated lifting of heavy items is necessary.
Where items are too heavy, divide loads into smaller lifts or get assistance from a coworker.
Any back injury can cause long-term problems, potentially requiring surgery. These injuries can even be permanent and debilitating (life-changing). Preventing injuries simply requires avoiding actions that may cause injury.
Train workers to develop habits that reduce or prevent straining the back. Where back injury risks cannot be eliminated, consider alternating tasks to relieve strain and duration. In addition, allow additional breaks, ideally with stretching during breaks.
Key to remember
Back injuries can result from awkward positions or movements, or from overexertion. Evaluate work tasks to reduce or eliminate these factors.
J. J. Keller is the trusted source for DOT / Transportation, OSHA / Workplace Safety, Human Resources, Construction Safety and Hazmat / Hazardous Materials regulation compliance products and services. J. J. Keller helps you increase safety awareness, reduce risk, follow best practices, improve safety training, and stay current with changing regulations.