Start Customizing Your Profile for Free!
Update to Professional Trial!
YOU'RE ALL SET!
Enjoy your limited-time access to the Compliance Network Professional Trial!
A confirmation welcome email has been sent to your email address from ComplianceNetwork@t.jjkellercompliancenetwork.com. Please check your spam/junk folder if you can't find it in your inbox.
YOU'RE ALL SET!
Thank you for your interest in
Environmental
Hazmat
related content.
WHOOPS!
You've reached your limit of free access, if you'd like more info, please contact us at 800-327-6868.
Copyright 2023 J. J. Keller & Associate, Inc. For re-use options please contact copyright@jjkeller.com or call 800-558-5011.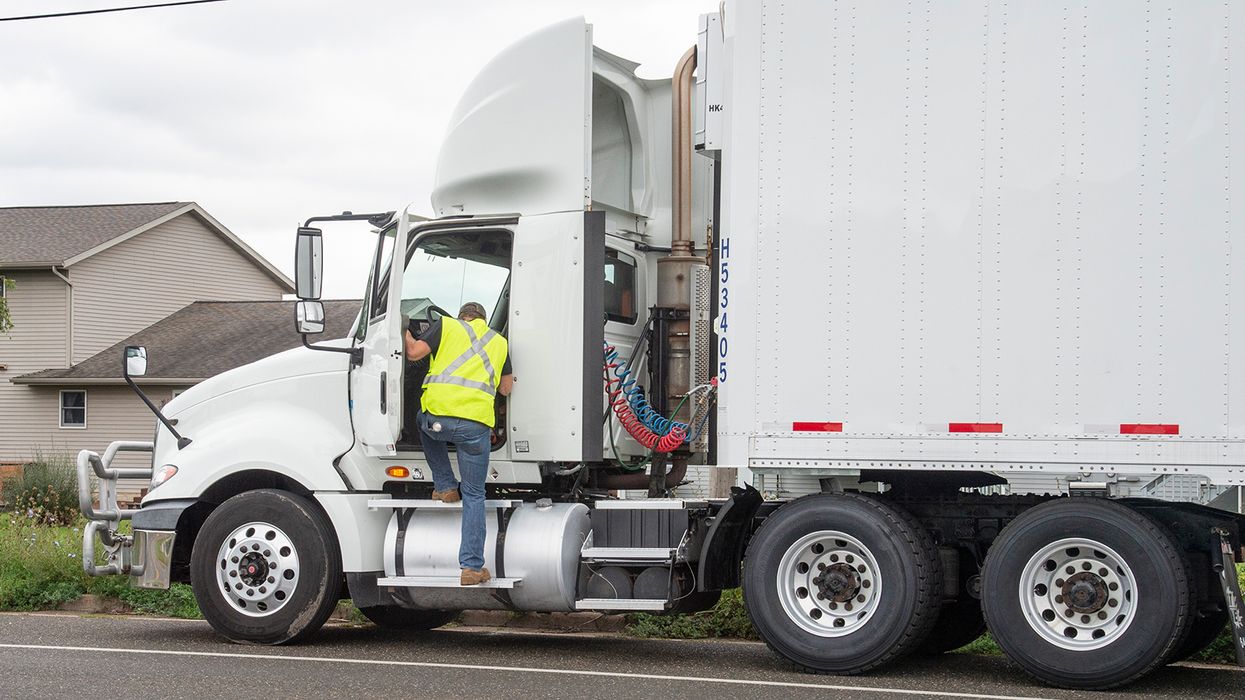 Take action to prevent falls from CMVs
Even experienced drivers are not immune to the hazards of working on top of a truck or trailer.
Take, for instance, two recent episodes in Washington state, both involving experienced truck drivers:
A driver was closing the side-roll tarp on an open-top trailer when it became stuck. He climbed a fixed ladder on the front of his trailer to try to shake the tarp free. Unfortunately, his hand slipped off the tarp and he fell more than eight feet to the ground, fracturing his back, ribs, and tail bone.
A driver and his helper were tarping a tall load on a flatbed trailer using a work platform attached to a forklift. The driver moved off of the work platform and onto the top of the load to fix the tarp while the other worker operated the forklift. As he walked across the load, he tripped and fell more than 12 feet to the ground, suffering multiple fractures in both arms and a dislocated elbow.
No regs to rely on
Federal regulations are of little help when it comes to determining how to protect drivers who need to work on top of a commercial vehicle.
The FMCSA doesn't have regulations addressing fall protection, other than tractor handhold and foothold rules in 49 CFR Part 399.
OSHA's fall-protection rules generally don't apply to drivers working on top of "rolling stock" like a trailer unless it's positioned inside of or next to a building or other structure where you could install fall protection (e.g., a safe working platform, fall arrest system, etc.).
OSHA's "general duty clause" does come into play, but it's vague. You're expected to prevent employees from working on top of vehicles in situations that may lead to injury or death, such as when ice or rain makes the trailer catwalk slippery. In addition, you need to ensure that employees have been trained to minimize risks and perform their work safely.
What are some best practices?
With no regulations to rely on, it's important to follow industry best practices to prevent falls. Here are some common ones that should be reinforced with your drivers:
Use personal protective equipment. Always wear non-slip gloves, safety glasses, and work boots with non-slip soles when loading or unloading, and a helmet when cargo is overhead.
Always use three points of contact when climbing or descending. This means having two hands and one foot, or two feet and one hand, in contact with the vehicle at all times. Another way to think of it: when one limb is moving, the other three need to be secure.
Always (always!) look before you step or grab when working on top of a trailer or load. In short, be continually aware of your surroundings and make sure you don't step on or grab a spot that won't support you.
Get help to put tarps into place. Have a forklift lift the tarps onto the load if possible.
Use a tarping station or machine, when available. If you use an elevated work platform, make sure the operator knows how to use it safely and don't exit the platform to gain access to the top of the load.
Don't walk, crawl on tarps after they're in place, when necessary. Test for voids under the tarp before committing your weight.
Take your time. Don't rush while tarping. Work at a steady pace, think about what you're doing, and think about your next step.
Make sure your tarp ties (bungee cords) are long enough for the job and use caution when securing them. Elastic cords are a leading cause of eye injuries, so keep your face (and other body parts) out of the "recoil area."
To avoid tripping, watch where you're walking and practice good housekeeping — never leave tools, straps, cargo, or other items in a place where you might trip on them.
When using ladders, never stand on or lean over the top rail of the ladder, maintain three points of contact, keep centered on the ladder (avoid overreaching), and avoid carrying objects while climbing the ladder.
As a company, consider creating a job hazard analysis for your specific tarping and securement operations. This involves a team of employees breaking down each job into its component steps and then evaluating each step, looking for hazards and determining how to mitigate them.
Key to remember: Motor carriers and drivers must use best practices to prevent injuries when tarping loads or otherwise working on top of trucks or trailers.
J. J. Keller is the trusted source for DOT / Transportation, OSHA / Workplace Safety, Human Resources, Construction Safety and Hazmat / Hazardous Materials regulation compliance products and services. J. J. Keller helps you increase safety awareness, reduce risk, follow best practices, improve safety training, and stay current with changing regulations.