{{ user.profile_site.specific_data.membership_type }}
{{ user.profile_site.specific_data.A1 }}
['Drug and Alcohol Testing - DOT']
['Split specimen - Motor Carrier', 'Substance abuse professional (SAP) - Motor Carrier', 'Drug and alcohol policy - Motor Carrier', 'Medical review officer (MRO) - Motor Carrier', 'Drug testing - Motor Carrier', 'Alcohol testing - Motor Carrier']

Start Experiencing Compliance Network for Free!
Update to Professional Trial!
YOU'RE ALL SET!
Enjoy your limited-time access to the Compliance Network Professional Trial!
A confirmation welcome email has been sent to your email address from ComplianceNetwork@t.jjkellercompliancenetwork.com. Please check your spam/junk folder if you can't find it in your inbox.
YOU'RE ALL SET!
Thank you for your interest in
Environmental
Hazmat
related content.
WHOOPS!
You've reached your limit of free access, if you'd like more info, please contact us at 800-327-6868.
Copyright 2023 J. J. Keller & Associate, Inc. For re-use options please contact copyright@jjkeller.com or call 800-558-5011.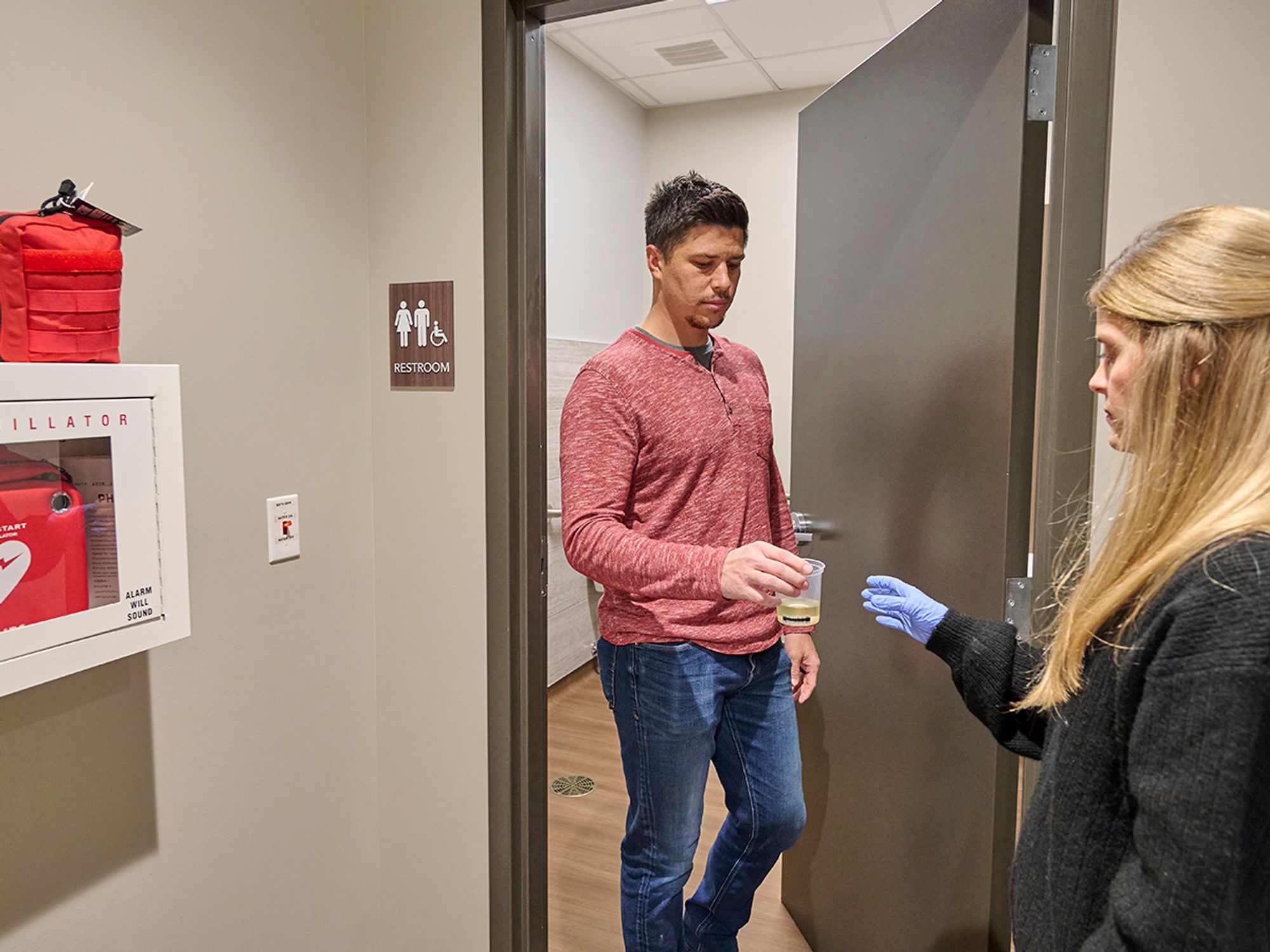 Drug testing must be conducted and documented according to DOT regulations.
Test results determine what actions will follow.
For drug testing:
A trained collector at a compliant collection site collects a urine or oral-fluid sample from the driver using an approved collection kit. In some cases, the driver must be observed while providing a urine specimen.
The collector splits the specimen into two bottles, completes a portion of the Department of Transportation (DOT) drug testing chain-of-custody form, and sends the samples to an approved laboratory for testing.
The laboratory tests the sample and provides the test results to the carrier's selected medical review officer (MRO).
The MRO reviews and confirms the test results. If the result is negative, the required paperwork is completed and the employer is notified. If the result is not negative:

The MRO contacts the driver to discuss the results.
In some cases, the driver is given the option to have the second (split) specimen tested. If the driver elects (within 72 hours) to have this second test, the split specimen is sent to another laboratory for testing.
When the results are confirmed, the employer is notified.
Drivers with a confirmed positive drug test result must be removed from duty and referred to a substance abuse professional (SAP) for treatment. Once the treatment process is complete, drivers may return to driving after passing a return-to-duty test, and then become subject to follow-up testing.
J. J. Keller is the trusted source for DOT / Transportation, OSHA / Workplace Safety, Human Resources, Construction Safety and Hazmat / Hazardous Materials regulation compliance products and services. J. J. Keller helps you increase safety awareness, reduce risk, follow best practices, improve safety training, and stay current with changing regulations.