Start Customizing Your Profile for Free!
Update to Professional Trial!
YOU'RE ALL SET!
Enjoy your limited-time access to the Compliance Network Professional Trial!
A confirmation welcome email has been sent to your email address from ComplianceNetwork@t.jjkellercompliancenetwork.com. Please check your spam/junk folder if you can't find it in your inbox.
YOU'RE ALL SET!
Thank you for your interest in
Environmental
Hazmat
related content.
WHOOPS!
You've reached your limit of free access, if you'd like more info, please contact us at 800-327-6868.
Copyright 2023 J. J. Keller & Associate, Inc. For re-use options please contact copyright@jjkeller.com or call 800-558-5011.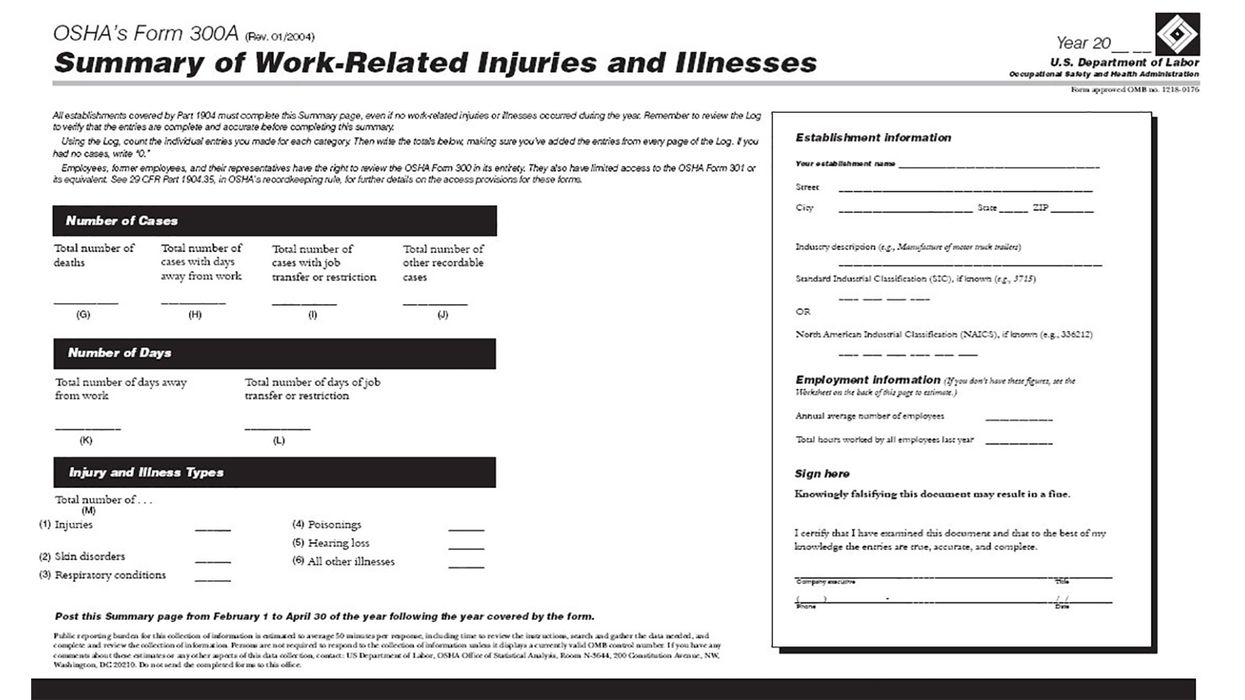 Deadline approaches for posting OSHA 300A Summary
2023-01-20T06:00:00Z
At the end of each year, employers covered by OSHA's workplace injury and illness recordkeeping requirements must review their 300 Log for accuracy and complete the 300A Summary based on the Log. Employers must post their OSHA 300A Summary from February 1 to April 30. It must be physically posted, in a place where employees are used to finding notices. During that time, employers must ensure that the Summary is not removed, altered, or defaced.
Note that employers must complete and post the Summary even if they had no recordable injuries or illnesses for the entire year.
Additionally, certain employers must submit the data from their 300A Summaries electronically to OSHA. Employers covered by this requirement include:
Establishments with 250 or more employees that are already keeping OSHA's workplace injury and illness records, or
Establishments with 20-249 employees that are also listed as specific high-hazard industries in OSHA's regulations.
Electronic submissions are due to OSHA by March 2, 2023, through the agency's Injury Tracking Application (ITA). OSHA began collecting the data for calendar year 2022 on January 2, 2023.
J. J. Keller is the trusted source for DOT / Transportation, OSHA / Workplace Safety, Human Resources, Construction Safety and Hazmat / Hazardous Materials regulation compliance products and services. J. J. Keller helps you increase safety awareness, reduce risk, follow best practices, improve safety training, and stay current with changing regulations.