Start Experiencing Compliance Network for Free!
Update to Professional Trial!
YOU'RE ALL SET!
Enjoy your limited-time access to the Compliance Network Professional Trial!
A confirmation welcome email has been sent to your email address from ComplianceNetwork@t.jjkellercompliancenetwork.com. Please check your spam/junk folder if you can't find it in your inbox.
YOU'RE ALL SET!
Thank you for your interest in
Environmental
Hazmat
related content.
WHOOPS!
You've reached your limit of free access, if you'd like more info, please contact us at 800-327-6868.
Fire prevention
['Welding and Cutting']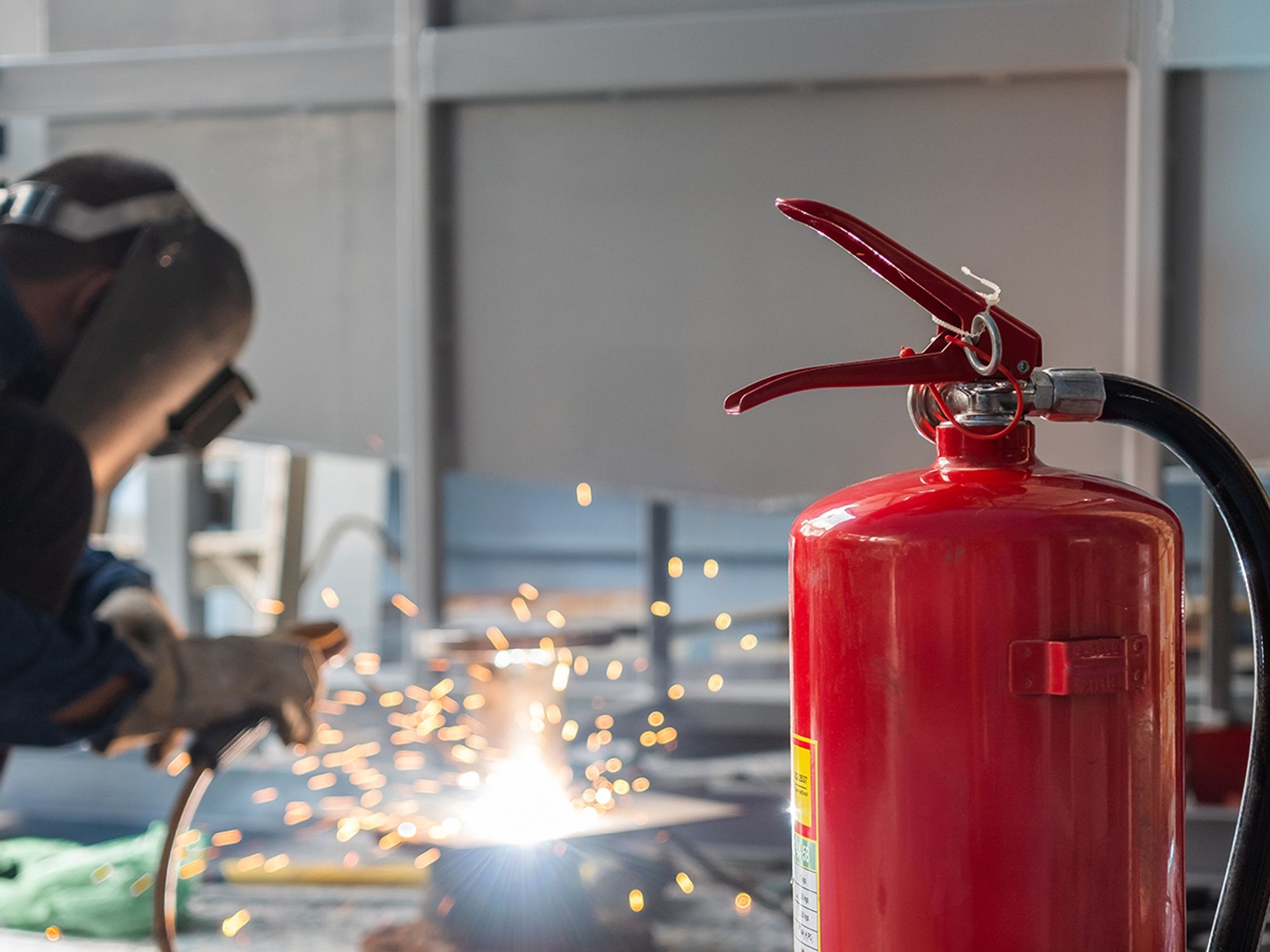 Appropriate fire prevention procedures depend on the nature of the object to be welded or cut and its surroundings.
Welding and metal cutting operations produce molten metal, sparks, weld spatter, slag, and hot work surfaces. All of these can create a situation that can cause fires. At 1910.252, the Occupational Safety & Health Administration (OSHA) addresses the fire hazards of hot work.
| | | |
| --- | --- | --- |
| When the object to be welded, cut, or heated | And | Then |
| Can be moved | A safe, fire-resistant workplace is available | The object should be moved to that space for working |
| Cannot be readily moved | All fire hazards are moved at least 35 feet away or are protected | The object can be worked in place |
| Cannot be moved | All fire hazards cannot be removed | Steps must be taken to confine the heat, sparks, and slag to protect the immobile fire hazards |
| Cannot be moved | Normal fire prevention precautions are not sufficient | Additional personnel shall be assigned to guard against fire during the work and for a sufficient amount of time afterward |
More information can be found in:
The company fire prevention plan.
29 CFR 1910, Subpart Q — Welding, cutting and brazing.
ANSI Z49.1-1967 — Safety in Welding and Cutting.
To best prevent and address fires, workers must be well-informed about:
The company's welding "best practices,"
The need to check for fire hazards prior to welding or cutting,
How to obtain a "hot work" permit, and
How to report fires.
They should also know when and how to involve a fire watcher.
When are fire watchers required?
Fire watchers provide additional safeguards against fire during and after welding, cutting, or heating operations. A fire watcher is required in situations where:
Other than a minor fire might develop,
Combustible material is located within 35 feet of the work,
Combustible material is located more than 35 feet away but can be easily ignited by sparks,
Wall or floor openings within 35 feet expose combustible material in adjacent areas or concealed wall or floor spaces, or
Combustible materials are located on the opposite side of surfaces being welded.
The fire watch is to be maintained for at least 30 minutes following completion of the work.
J. J. Keller is the trusted source for DOT / Transportation, OSHA / Workplace Safety, Human Resources, Construction Safety and Hazmat / Hazardous Materials regulation compliance products and services. J. J. Keller helps you increase safety awareness, reduce risk, follow best practices, improve safety training, and stay current with changing regulations.