Start Customizing Your Profile for Free!
Update to Professional Trial!
YOU'RE ALL SET!
Enjoy your limited-time access to the Compliance Network Professional Trial!
A confirmation welcome email has been sent to your email address from ComplianceNetwork@t.jjkellercompliancenetwork.com. Please check your spam/junk folder if you can't find it in your inbox.
YOU'RE ALL SET!
Thank you for your interest in
Environmental
Hazmat
related content.
WHOOPS!
You've reached your limit of free access, if you'd like more info, please contact us at 800-327-6868.
Copyright 2023 J. J. Keller & Associate, Inc. For re-use options please contact copyright@jjkeller.com or call 800-558-5011.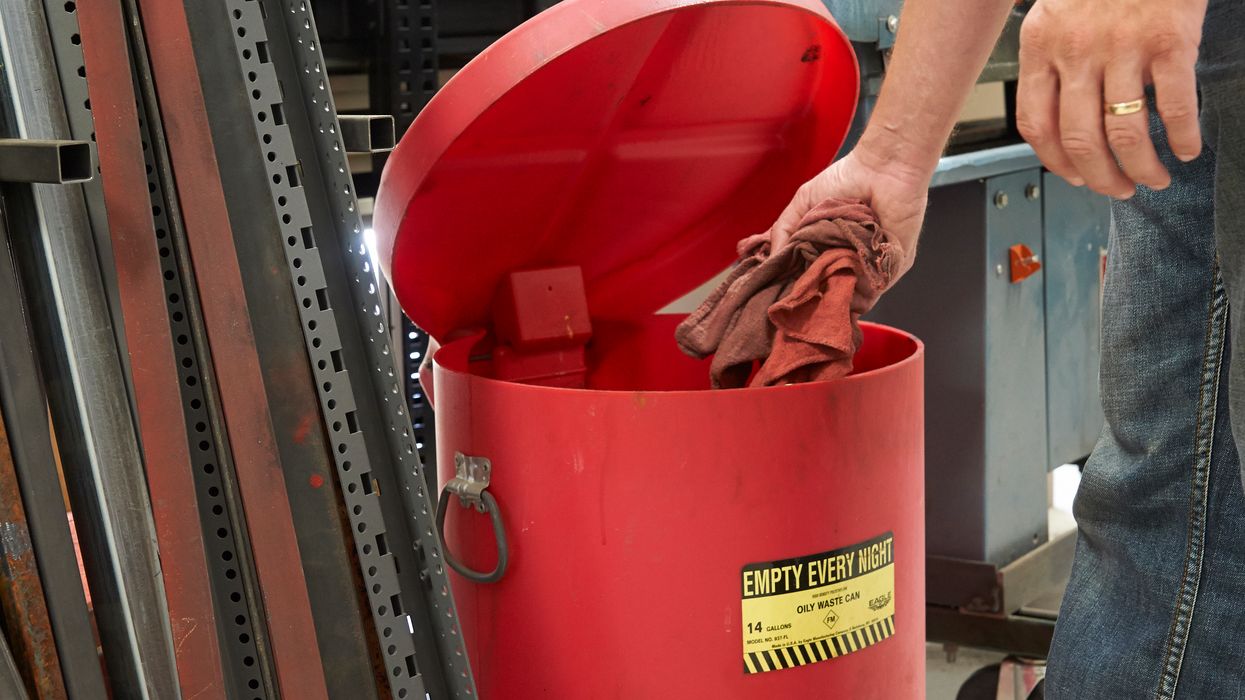 HAZWASTE - Is it warm in here?
2021-06-15T05:00:00Z
Learn how to handle the pressure!
If your company is a waste generator, it's likely that you carry some responsibility for ensuring wastes are properly managed. OSHA has long been concerned about accumulations of materials that can cause large fires, generate dense smoke, are easily ignited, or may cause spontaneous combustion from too much pressure.
Ignitable wastes
Ignitable wastes are those that can easily catch fire. You have the ability to manage those wastes by keeping them away from sources of ignition including:
Open flames,
Hot surfaces (i.e., from operating machines or engines),
Radiant heat or sunlight,
Cutting and welding operations, and
Sparks from static electricity.
Spontaneous combustion
Waste such as oil or solvent-soaked regs have to be treated differently than other types of waste because of the potential for spontaneous combustion.
DID YOU KNOW?
What is spontaneous combustion?
Spontaneous combustion occurs when a material in contact with air heats up sufficiently without an outside heat source to begin to burn. Organic materials such as oils or solvents may slowly react with oxygen creating heat. Over time the heat can build up and when it gets hot enough a fire can start. OSHA requires that combustible scrap, debris, and waste materials, such as oily rags, be stored in covered metal receptacles and promptly removed from the work site. Proper collection and storage of waste minimizes the risk of fire including spontaneous combustion.
You must ensure that you take time to follow your employer's work processes for handling ignitable wastes. If you have questions or need clarification, be sure to ask your supervisor for assistance.
J. J. Keller is the trusted source for DOT / Transportation, OSHA / Workplace Safety, Human Resources, Construction Safety and Hazmat / Hazardous Materials regulation compliance products and services. J. J. Keller helps you increase safety awareness, reduce risk, follow best practices, improve safety training, and stay current with changing regulations.