{{ user.profile_site.specific_data.membership_type }}
{{ user.profile_site.specific_data.A1 }}
['CERCLA, SARA, EPCRA']
['CERCLA, SARA, EPCRA']

Start Experiencing Compliance Network for Free!
Update to Professional Trial!
YOU'RE ALL SET!
Enjoy your limited-time access to the Compliance Network Professional Trial!
A confirmation welcome email has been sent to your email address from ComplianceNetwork@t.jjkellercompliancenetwork.com. Please check your spam/junk folder if you can't find it in your inbox.
YOU'RE ALL SET!
Thank you for your interest in
Environmental
Hazmat
related content.
WHOOPS!
You've reached your limit of free access, if you'd like more info, please contact us at 800-327-6868.
Copyright 2023 J. J. Keller & Associate, Inc. For re-use options please contact copyright@jjkeller.com or call 800-558-5011.
Emergency response plan elements and transportation plans
['CERCLA, SARA, EPCRA']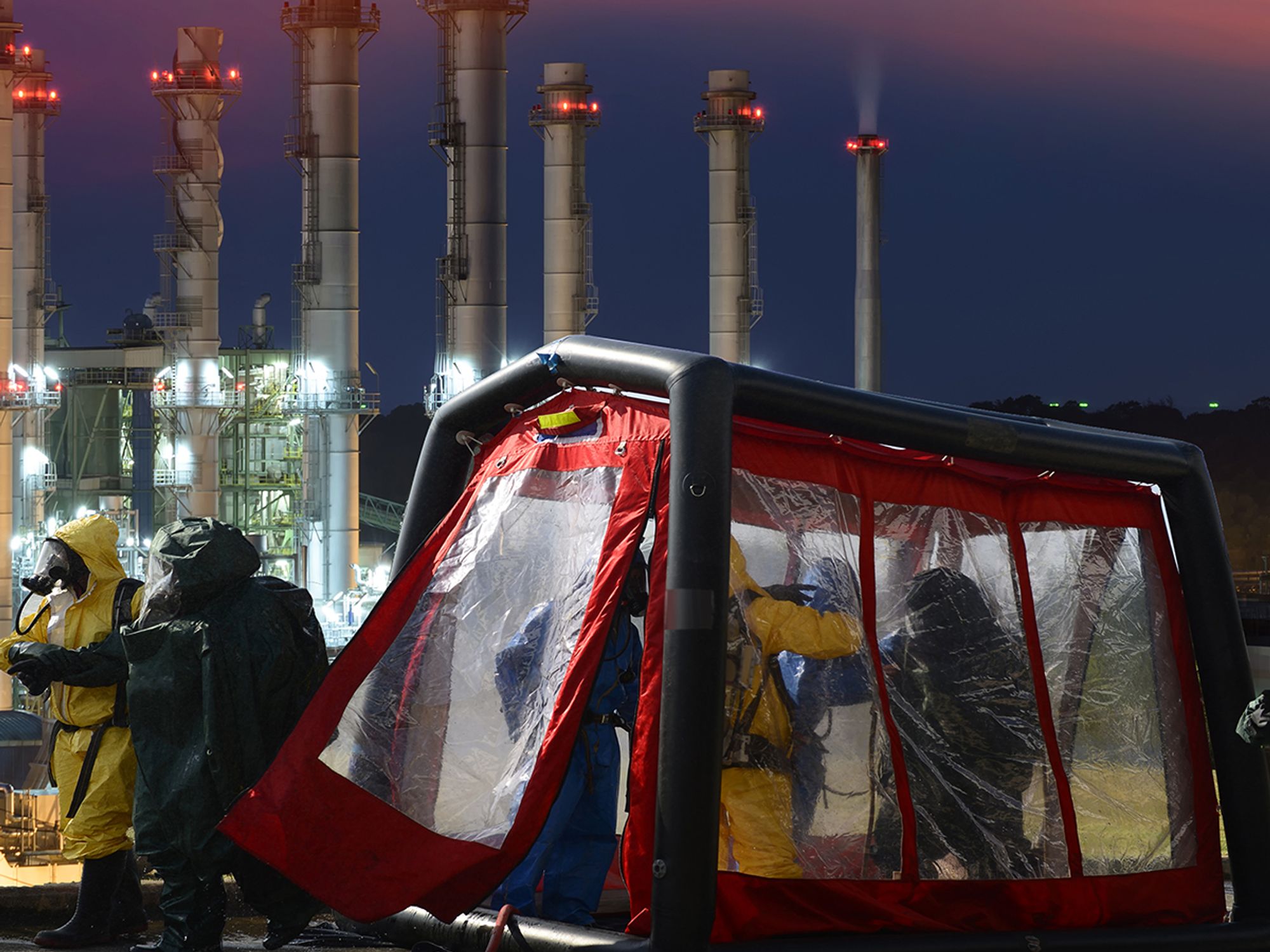 Emergency response plans require certain plan elements.
The EPA suggests that LEPCs address details such as communication systems, evacuation routes, and resources when developing a plan.
Emergency response plans must include:
Identification of facilities subject to emergency planning and notification requirements that are within the emergency planning district; identification of routes likely to be used for the transportation of extremely hazardous substances (EHSs); and identification of additional facilities (such as natural gas facilities or hospitals) contributing or subjected to additional risk due to their proximity to covered facilities;
Methods and procedures to be followed by facility owners/operators and local emergency and medical personnel to respond to any release of EHSs;
Designation of a community emergency coordinator and facility emergency coordinators, who will make determinations necessary to implement the plan;
Procedures providing reliable, effective, and timely notification by the facility emergency coordinators and the community emergency coordinator to persons designated in the emergency plan, and to the public, that a release has occurred (consistent with the emergency release notification requirements of Section 304 of the Emergency Planning and Community Right-to-Know Act (EPCRA));
Methods to determine the occurrence of a release, and the area or population likely to be affected by such release;
A description of emergency equipment and facilities in the community subject to emergency planning and notification requirements, and identification of the persons responsible for such equipment and facilities;
Evacuation plans, including provisions for a precautionary evacuation and alternative traffic routes;
Training programs, including schedules for training local emergency response and medical personnel; and
Methods and schedules for exercising the emergency plan.
Although Local Emergency Planning Committees (LEPCs) are informed of general emergency information, each LEPC cannot possibly be familiar with all aspects of the community and the facilities located in the planning area. To assist local planners, facilities subject to the emergency planning provisions must designate a facility emergency coordinator to assist the LEPC in the emergency planning process.
EPCRA 303(d)(3) requires the facility upon request to promptly provide information to the LEPC deemed necessary for developing and implementing the emergency plan. "Information" is not defined in the statute or the regulations and as such can take the form of anything necessary for the LEPC to develop and implement the emergency plan. For example, a facility plan is not required, but if requested by the LEPC, it must be prepared. The facility must notify the LEPC of any pertinent changes at the facility.
Transportation plans
Although chemical inventory information is very important for emergency response actions, transportation plans can be equally important. The Environmental Protection Agency (EPA) suggests that LEPCs address details such as communication systems, evacuation routes, and resources when developing a plan; although, evaluation of these areas is not specifically required. Only the LEPC has access to this type of information and can best evaluate it. Similarly, an LEPC should be aware of heavily traveled highways and routes that are used to transport chemicals and include them in the emergency plan.
Because of the importance of a transportation plan, a transportation representative must be a member of the LEPC.
J. J. Keller is the trusted source for DOT / Transportation, OSHA / Workplace Safety, Human Resources, Construction Safety and Hazmat / Hazardous Materials regulation compliance products and services. J. J. Keller helps you increase safety awareness, reduce risk, follow best practices, improve safety training, and stay current with changing regulations.